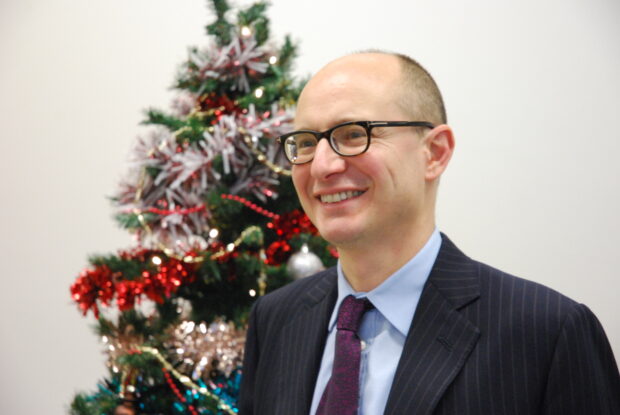 2018 has been another busy and exciting year for us at the Competition and Markets Authority. From investigating new mergers and launching studies of vital markets to make sure they are working well for the people that need them, to preparing for our move and expansion in 2019, I've been reflecting on all our achievements over the past 12 months.
Though it's been hard to pick just a few, here are my highlights from 2018.
Vulnerable consumers
Over the course of this year, we've been looking into the challenges faced by vulnerable groups of people, such as those on a low income or the elderly or disabled, when buying goods or services. The research from this project will help to shape our work going forward, as we increasingly focus on ensuring consumers are treated fairly by companies.
2 sectors we've already made progress in are care homes and funerals. In June, we secured more than £2million in compensation for care home residents who were charged large upfront fees. More recently, we told Care UK that it'll face legal action unless it repays the 1,600 residents who were charged a compulsory administration fee, yet received nothing in return.
During our funerals market study, we found the price of funerals and cremations had risen enormously over the last 10 years. We're now proposing a full market investigation, so that we can use our powers to protect people at such a difficult and emotional time.
Digital traders
We've been using our enforcement powers to pursue businesses that may be breaking the law online.
We secured a court order against ticket resale site, viagogo, so that it must now provide key information about tickets, such as what seat you'll get in the venue and whether there's a risk you won't get in.
Hotel booking sites came under similar scrutiny when we launched several enforcement cases in July because of concerns that some sites may be misleading customers. We remain committed to ensuring customers get a fair deal when they book hotels and expect to provide an update on the action we have taken in early 2019.
Our work in the online gambling sector completed this autumn, after we secured better protection for players, including making it easier for them to withdraw their own cash. We also investigated an online dating site over concerns it was sharing people's data on sites they may not expect to be featured on. As a result, the company has pledged to make it clear to people how their information will be shared.
Working with the Advertising Standards Agency, we co-authored guidance on how social media influencers should clearly label their posts when they've been paid to endorse products. We also wrote to a number of celebrities and influencers, and we'll be updating on this project early in the new year.
Switching and loyalty
Another key issue we've been looking at this year is whether it's easy enough for people to shop around for deals and switch providers for services they use.
Building on the growing success of Open Banking, we've continued to help make sure people can compare deals and services offered by banks. In August, following our joint action with the FCA, all banks were required to publish information on how likely their customers are to recommend their services, making it easier for people to find better offers to switch to. First Direct even built an advertising campaign around the success of its results from the customer survey.
Citizens Advice referred a super-complaint to us in September over concerns that people who stay with their providers for things like phone contracts, mortgages and insurance can end up paying more than new customers. We found significant concerns about this 'loyalty penalty', and as part of a comprehensive action plan for the CMA, regulators and Government, have announced a range of recommendations to help clamp down on harmful practices, including using our own enforcement powers.
Mergers
This year we've continued to assess a large number of potential mergers. We opened investigations across a variety of industries, from washroom services, news media publishers and medical equipment, to petrol stations and credit scoring services.
A number of these cases hit the headlines, too. Our investigation into public interest issues in the merger of 21st Century Fox and Sky came to an end this year, when we submitted our concerns to the Secretary of State at the Department of Culture, Media and Sports.
We also launched our investigation into the Sainsbury's / Asda merger in August. The case was fast-tracked to an in-depth investigation by an independent Inquiry Group in September, which will announce its provisional view on the case early in 2019.
Stop Cartels
Encouraging people to come forward with information on cartels has remained a priority for us this year. We launched a fresh wave of our Stop Cartels campaign, utilising a new online form and cartel checker to make it easier for people to spot and report illegal activity. We've already seen an impact with more people tipping us off about potential wrongdoing and getting in touch to find out more.
We also fined 2 of the main suppliers of household coal for barbecues £3.4 million for taking part in a market-sharing cartel.
And so much more
We've continued our work to improve competition in a number of other sectors, including consulting on reforms to the statutory audit market, as well as the investment consultancy and fiduciary management sector.
We also imposed a fine of £1.6million on Heathrow airport after it restricted competition on parking prices in a lease with the operator of a Terminal 5 hotel.
Finally
Looking ahead, 2019 is set to be another significant year for us, as we build on our work to promote competition, protect vulnerable consumers and make a real difference to people's lives. We'll also be expanding our teams ready for the UK exiting the EU, growing our presence in Northern Ireland, Wales and Scotland, and moving our London office to Canary Wharf.
But before January comes around, I hope that you all have a relaxing holiday. On behalf of the CMA, I wish you a Merry Christmas and a Happy New Year.