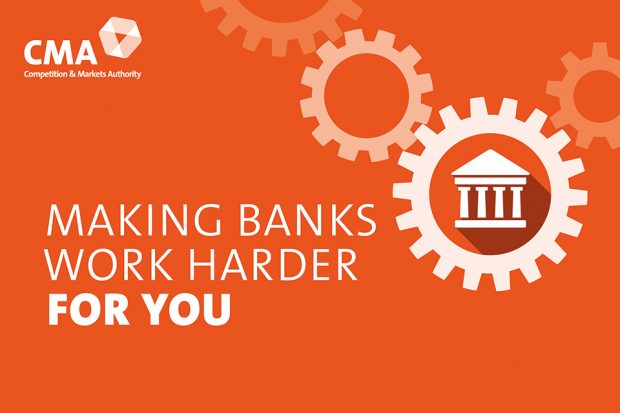 Last Friday (2 Feb 2018) was an exciting milestone for the Competition and Markets Authority's Banking Investigation.
One year after we put the legal order in place to make banks work harder for their customers, we have now seen a raft of reforms take effect to make personal and business banking easier.
Overdraft warnings: Customers with personal current accounts will now receive alerts, usually a text message or a warning provided via their banking app, when they are about to slip into an unarranged overdraft. This gives them a chance to avoid moving into the red or prompts them to put money into their account – therefore helping them to avoid potentially costly charges. We have already demanded that banks introduce a monthly maximum charge for using an unarranged overdraft and required that they are clearer to customers about the price of an overdraft or loans.
Transaction history: Both personal and business customers will also now be given up to five years of their transaction history when they close their account. This means they no longer need to be worried that they might not be able to get hold of old information when they need it, a concern that can stop people from looking for a better deal or switching banks.
Loan price and eligibility tools: Small and medium sized businesses will also now find it easier to take out a business loan thanks to a new loan price and eligibility tool that is being launched by four banks: RBS Group, Lloyds Banking Group, HSBC Group and Barclays. This will help SMEs to understand the costs of taking out a loan and find the best deal for them. And they can shortly be accessed by other business, which could help drive innovation amongst comparison sites.
Business current accounts: The CMA is insisting business current account opening procedures are standardised, so all banks will now ask for the same information from applicants. – making the process of opening an account and switching provider much easier.
These measures build on a range of additional changes that we have already introduced such as Open Banking, which began its roll-out three weeks ago and is set to revolutionise banking in the UK
And we recently required Bacs Payment Schemes Ltd (Bacs) to make changes to the Current Account Switching Service (CASS), a free service that is meant to makes switching your current account significantly easier. These include extending the redirection service, designed to give further assurance to customers that all their payments will be switched from their old account to their new one – and so overcome a key concern about moving banks.
We also tasked Bacs to work with banks and increase both awareness of and confidence in CASS. They are now working together to target those likely to benefit from switching the most, such as overdraft users and customers with high credit balances, and make sure they know other options are available to them.
And there is more to come:
Open Banking: Open Banking will continue to evolve, with enhancements being introduced through this year and next.
Information on banks' services: From August, customers and businesses will be able to access, for the first time, comparable information on the quality of banks' services.
Nesta Open Up Challenge: In the Autumn, the second stage of the Nesta Open Up Challenge is due to complete. This is a competition being run by Nesta to provide opportunities for developers of innovative products or services that promote competition in the markets for business current accounts, credit, and financial automation and intelligence tools. The final prizes are expected to be announced in November this year.
The last 12 months have seen an enormous amount of work by industry, new entrants, the Fintech community, consumer groups, business representative bodies, regulators and government. And while last week's remedies were an important milestone, there is much more to do.
However, the prize – a much more competitive banking market, responsive to customer and business needs, with greater innovation and higher levels of service – is huge and requires, and deserves, our continued collective energy, focus and drive.