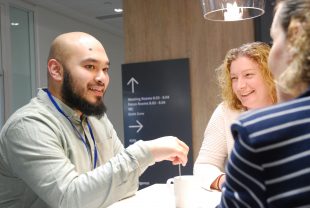 Following the success of our legal secondment programme, the CMA is now launching an economist secondment programme to foster exchanges between private-sector and CMA economists. If you are a competition economist and want to find out more about the CMA, we would like to hear from you. 
Taking part in a secondment at the CMA is an unparalleled experience that will add value to private-sector economists' portfolio of skills. We believe the CMA experience will offer you and your consulting firm a number of benefits, including: 
a

 structured insight

 into

 

the CMA's 

workings

opportunities

to conduct interesting economic analysis within the CMA's growing

 profile

, for example

 in

 

global 

mergers and digital work

 

n

etworking with CMA 

economists,

 lawyers

 and our stakeholders
As a secondee, you will work in our case teams just as CMA economists do. You will gain hands-on experience in CMA cases which can be mergers, markets or antitrust investigations, depending on need and your preference. 
We are particularly keen to hear from economists with at least 3 years of competition consulting experience and a master's degree in economics. 
We plan to offer up to 2 secondment positions in our first intake, with each position for a 6-month period. One of the secondment opportunities will start as soon as feasible in Spring 2021, the following one will start in Autumn 2021.  
If you are interested, we encourage you to discuss with your firm in the first instance. We invite consulting firms to put forward staff who wish to be considered for these secondment opportunities. 
However, we may also consider applications from individuals, if you prefer to make your own sabbatical arrangements with your firm. The CMA will contribute a flat rate to the cost of secondees, with further details available on request. 
Applicants must be based and eligible to work in the UK. 
For each applicant, please send a full CV and a cover letter describing your relevant competition economics experience and when you could start, by Friday 30 April 2021, to Shannon Jackowski (Shannon.Jackowski@cma.gov.uk). 
We will invite short-listed candidates for a brief interview shortly afterwards. 
More information
If you would like to discuss or understand more about these opportunities, please contact: