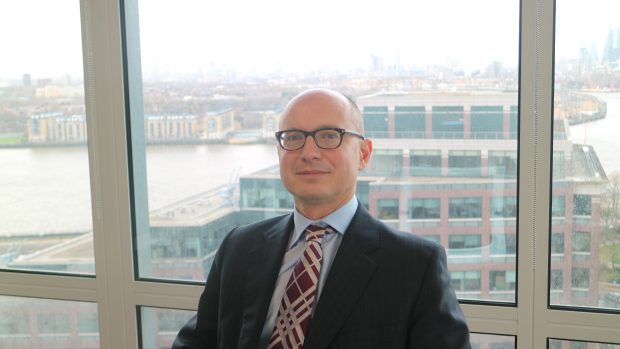 The CMA today publishes its Annual Report and Accounts 2019 to 2020 which covers the wide range of work we carried out over the past year to make a positive difference for consumers, businesses and the UK economy. The Annual Report covers the period up to 31 March 2020.
COVID-19
In March 2020 the CMA set up its COVID-19 taskforce to monitor market developments and gather evidence of harmful practices to enable us to intervene where we can, as quickly as we can. From 10 March to 28 June, we were contacted more than 80,000 times about coronavirus-related issues. Initially, the majority of complaints were about price rises for essential items. However, since mid-April, most complaints have been about unfair practices in relation to cancellations and refunds. We prioritised four sectors for further investigation (holiday accommodation, wedding and events, nurseries and package holidays).
We have been able to secure undertakings from two major firms in the holiday lettings sector - Vacation Rentals, which operates popular accommodation sites including Hoseasons and Cottages.com, and Sykes Cottages - to offer full refunds to customers. These two firms account for the majority of the complaints in this area.
We have also written to 277 firms about price rises for essential products, accounting for over 4,600 complaints. Over 40% of the total number of actionable complaints received were about price rises. And we have opened investigations into suspected breaches of competition law by four pharmacies and convenience stores related to suspected charging of excessive and unfair prices for hand sanitiser. The CMA has released a joint statement with several trade associations condemning price gouging.
As arrangements and agreements between businesses that limit competition are prohibited in competition law, the CMA published guidance to offer reassurance that so long as such coordination is solely to provide essential goods and services to consumers during the current crisis and does not go further or last longer than necessary, the CMA will not take action against it.
Protecting consumers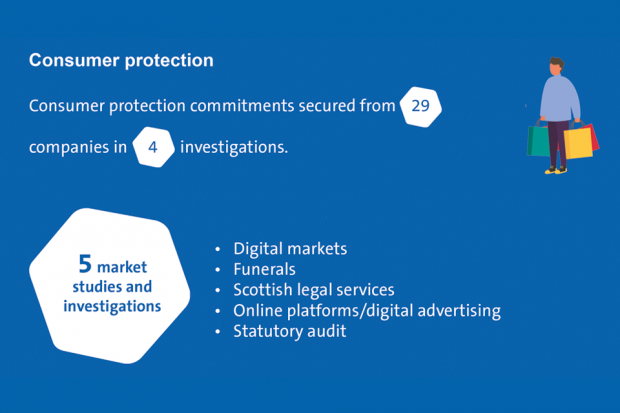 Over the past year, we have continued to take tough action to protect the interests of consumers. We secured compensation of £9 million from pharmaceutical companies for the NHS (and the public who depend on it as patients and fund it as taxpayers), following two separate investigations into alleged anti-competitive practices in the supply of medicines fludrocortisone and nortriptyline.
We published progress on tackling the 'loyalty penalty' that impacts on millions of people. Ofcom has introduced new rules on notifications about the end of mobile and broadband contracts and the best deals available. There is ongoing work by the FCA to ensure that consumers are better protected from loyalty penalties in financial services.
The CMA is also developing consumer law guidance for fertility clinics to make sure they treat their patients fairly. We have concerns about possible cases of mis-selling of services such as IVF 'add-on' treatments, and possible misrepresentation of clinics' success rates.
Our merger control work also touches on markets that particularly affect vulnerable consumers. We required the unwinding of a merger of two suppliers of augmentative and assistive communication solutions to people with complex speech and language needs. We broke up Tobii's purchase of Smartbox because of the very serious effects the deal could have for consumers such as less choice, less product development and higher prices.
And in the banking sector, we have used our powers to secure refunds of nearly £17m for customers from Nationwide, HSBC and Santander after they broke a CMA legal order.
Improving trust in markets
The CMA has stopped companies cheating through fixing prices, including imposing a £36 million fine for a cartel in the construction industry. We also secured the disqualification of company directors involved in the case.
Following an investigation by the CMA, two of the UK's largest suppliers of rolled lead have admitted to taking part in anti-competitive arrangements and could face fines of more than £11 million.
We are committed to ensuring and strengthening personal responsibility for company compliance with competition law and have injected new vigour in our application of the law providing for disqualification of company directors for competition law breaches – protecting the public from individuals who have shown themselves unfit to be directors. For many years this was a power that lay dormant, and we secured our first disqualification in December 2016.
Since then, we have ramped up use of this power, securing 11 disqualifications in 2019, and a further six so far in 2020 – taking the total to 18. Most notably, whereas previously disqualifications had been secured by undertakings offered by the directors concerned, in July the first fully contested case led to a court order of a disqualification of seven years for an estate agent in connection with a price-fixing arrangement in the sector.
One of our key consumer enforcement investigations this past year has been into leasehold property in England. We found troubling evidence of potential mis-selling and unfair contract terms and published a report in February 2020 outlining our findings. We are now preparing to launch enforcement action and working with government to ensure that homeowners are protected in the future.
We have taken tough action against the harmful effects of anti-competitive mergers. A strong and independent system of merger control, which prevents harm to consumers' interests can build further trust in markets. In May this year, the CMA blocked JD Sports' purchase of close competitor Footasylum after finding it could leave shoppers worse off. After an in-depth Phase 2 investigation the CMA also blocked a merger between two cleaning chemicals firms to prevent potential price rises or a lower quality of service.
Our tough approach also means that some mergers were abandoned after we highlighted serious competition concerns, including an offshore accommodation merger and a merger between building supply companies Kingspan and Building Solutions.
Promoting better competition in online markets
We are at the forefront of competition agencies around the world in exploring how technology is changing the business models and investment strategies of firms in the digital economy. Making sure that we understand and address the challenges that the growth of the digital economy poses – for consumers, businesses and competition authorities – is vital. We hosted a virtual event in March bringing together leading experts from across the world to explore how to shape the future development of digital markets in a way that can harness the benefits and minimise the harm.
Our Digital Markets Strategy sets out our aim to protect consumers whilst fostering innovation in the rapidly developing digital economy. After a year-long examination into how advertising revenue drives the business model of major platforms, we have recommended to government a new pro-competition regulatory regime to govern the behaviour of major platforms funded by digital advertising, like Google and Facebook. The CMA is concerned that they have developed such unassailable market positions that rivals can no longer compete on equal terms. Weak competition in search and social media leads to reduced innovation and choice, as well as to consumers giving up more data than they would like. If the £14bn spend in the UK last year on digital advertising is higher than it would be in a more competitive market, this would be felt in the prices for hotels, flights, consumer electronics, books, insurance and many other products that make heavy use of digital advertising.
The CMA, working with the Information Commissioner (ICO) and Ofcom, has also formally launched a Digital Markets Taskforce. The Taskforce, originally commissioned by the government, will build on the conclusions of the market study, as well as looking more widely across all platforms to consider the functions, processes and powers which may be needed to promote competition. It will advise government on how a new regulatory regime for digital markets should be designed.
In a win for online shoppers, following action from the CMA, Facebook and eBay committed to combatting the trade of fake and misleading reviews on their sites, taking action to remove groups, disable accounts and ban users, as well as introducing more robust systems for the future.
Meanwhile, we have launched an investigation into several major websites to see whether they are doing enough to protect shoppers from fake and misleading reviews. As people rely increasingly on shopping online during the lockdown, we will examine how these sites currently detect, investigate and respond to fake and misleading reviews.
The CMA secured changes from the majority of hotel booking sites operating in the UK. 25 firms, including big brands like TripAdvisor, Airbnb and Google, as well as major hotel chains, agreed to change how they display information where needed and signed up to the CMA's sector wide principles for complying with consumer protection law.
We continue to investigate suspected breaches of consumer protection law in the online secondary tickets market. This year this included telling ticket resale firm StubHub to make changes to its site after identifying problems that could mean it is breaking consumer law. Viagogo also addressed the CMA's outstanding concerns about how it presents important information to its customers. We referred the completed acquisition by viagogo of StubHub for an in-depth investigation.
Following an in-depth Phase 2 investigation,  we blocked Sabre's proposed takeover of Farelogix because of competition concerns. The companies supply software solutions which help airlines to sell flights via travel agents including those that operate online.
Meanwhile, we provisionally cleared Amazon's 16% investment in Deliveroo, on the basis that it is not likely to result in a substantial lessening of competition. We also cleared the £6.2 billion merger between two food delivery companies, Just Eat and Takeaway.com.
Supporting economic growth and productivity
A strong economy is underpinned by markets that work effectively, where competition is driving innovation, efficiency and growth. In well-functioning competitive markets, businesses innovate and compete vigorously and fairly to attract customers' business. Customers can make informed choices between suppliers on price, quality, innovation and service. This drives further competition and innovation in a virtuous circle. The CMA's competition and consumer protection, interventions contribute to this working effectively.
Over the past year, we started to assess the state of competition in markets across the UK and consumers' experiences of those markets. In light of the COVID-19 outbreak we had to postpone this work, but will be returning to it at an appropriate point.
Illumina abandoned its anticipated $1.2 billion takeover of PacBio after an in-depth CMA merger probe highlighted serious competition concerns. Both companies are global suppliers of Next-Generation DNA sequencing which is vital to the study of genetic variation, essential to disease research and drug development.
The UK's exit from the EU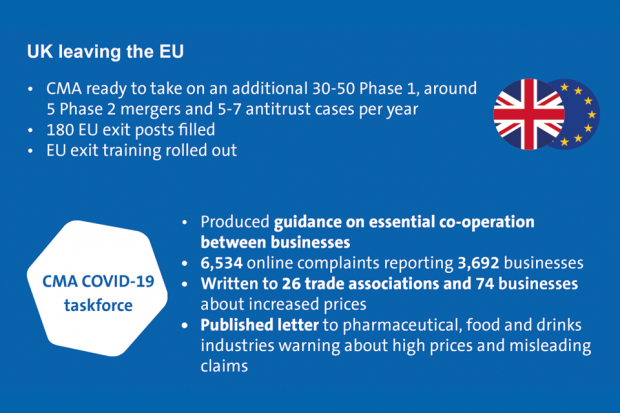 At the end of the transition period, 1 January 2021, the CMA will take on responsibility for larger and more complex merger, cartel and competition enforcement cases that were previously reserved for the European Commission.
In 2019/20 we made substantial progress in ensuring that we have the necessary people, skills and infrastructure in place to take on this expanded role.
The UK's exit from the EU presents both challenges and opportunities for the CMA. We remain committed to capitalising on these opportunities to secure continued good outcomes for UK consumers, and to play a bigger role in working internationally to promote competition and protect consumers – including working alongside competition and consumer agencies and policymakers across the world.
We have published guidance to explain how it will conduct its work during the transition period. We have also contributed to and advised on the government's planning for various options for the creation of a domestic subsidy control regime.
The COVID-19 pandemic and its impact on the economy will be the biggest challenge facing the CMA in the foreseeable future. We are still in the midst of the outbreak and the full impact of the crisis is yet to emerge.
It is an uncertain path ahead for the UK. However, the CMA will continue to ensure our work protects consumers and that markets work well for them, businesses and the economy during this difficult time.