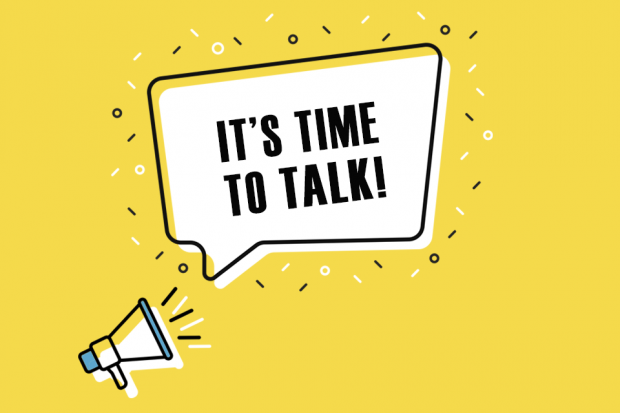 Today, 6th February, is Time to Talk Day 2020.  This is a national event encouraging everyone to be more open about mental health.
As you may be aware from previous blogs, I've made the highly personal choice to write about mental health and speak about my own mental health challenges, including the experience of losing both a daughter and a sister to suicide.  While I was a bit nervous when I first started talking about my life in this way, I have found it helpful in coming to terms with, and making sense of, these difficult episodes.
Clearly, sharing this type of personal information publicly is not going to be right for everyone. But there's a real benefit in finding at least one person you can trust and talk to if you're feeling down. It can give others the opportunity to show kindness or provide practical support.
Sometimes just the act of voicing your anxieties, fears or concerns - rather than keeping them bottled up - can make you start to feel a little bit better.
At the CMA we have been taking a range of steps over the past 3-4 years to make it easier for colleagues both to talk about mental health issues and to listen and learn from others.
Our aim is that if someone is having a hard time at work or in their personal lives, they will know that they are not alone in experiencing difficulties, that it's OK to talk about this stuff and that support is available.
Here are 10 things we've been doing at the CMA to help open up conversations about mental health:
Tea and talk
Our very first mental health initiative was to set up a series of workshops led by senior leaders in which we explore an aspect of colleagues' lived experiences.
 For example, just this Tuesday we held a session on shyness at work, introduced by our Executive Director Andrea Gomes Da Silva and featuring Nadia Finer an expert on the subject.
Over the past few years we have covered topics as diverse as race, suicide awareness and prevention, work-life balance, faith, dyslexia, fostering, autism and eating disorders. All our workshops are open to all, and we aim to follow them up with a smaller session for anyone who has been particularly affected by the discussion.
Someone who will listen to you
We have a range of options that colleagues can access if experiencing difficulties. For example, our Employee Assistance Programme is a free source of support, advice and counselling for colleagues across the CMA.
We have trained nearly 70 Mental Health First Aiders from across the organisation to listen with compassion and empathy and have recently launched a Respect Ambassadors programme so colleagues always have someone they can talk to.
Sharing stories and swapping tips
We run a blog series on our Intranet on mental health and wellbeing.  As well as creating a safe space for sharing lived experience of mental health challenges, we also encourage people to swap tips and strategies for staying mentally healthy.
One of my favourite blogs of the past year was when we asked senior leaders to tell us about the role of exercise in their life - answers ranged from Jiu Jitsu to Morris Dancing via walking the dog.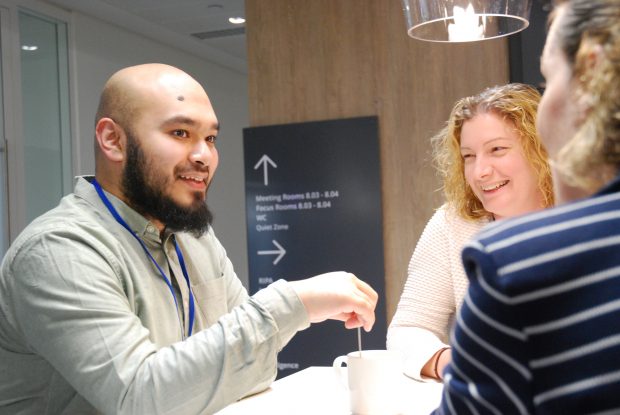 Walking and talking (and even running!)
Going for a walk with a colleague is a brilliant way to have an open conversation.  One of the great benefits, to my mind, is that you don't feel the same pressure to keep the conversation going at all times.  You can enjoy the scenery and reflect on what has just been said or how you are feeling in that moment.
Our Edinburgh-based colleagues go on a weekly walk.  We're not quite that organised in London yet, but we do have a regular Friday running group, Sketch and Stretch outings for the artistically inclined  and we are planning a lunchtime walk today.
Conversation mats
Like other parts of the UK Civil Service we have been taking part in the Wellbeing Confident Leaders programme.
This involves holding a structured discussion guided by a big piece of paper (a 'conversation mat') about the various factors that help people thrive at work, such as building good relationships and feeling like you achieve something of value every day.
We started with our senior leadership team but have now developed a version of this training that can be used across the whole organisation.  You can watch our wellbeing confident leaders video to find out more.
Distinguished speakers
We're an outward-looking organisation and it's great to get an external perspective. We have invited a variety of external speakers with a perspective on mental health to speak at the CMA, including Dr Bill Mitchell, Hope Virgo, Matt Rodda and Poppy Jaman OBE.
We have also extended our conversations with speakers renowned in other fields to cover mental health issues - for example, I really enjoyed speaking to Dame Jayne-Anne Gadhia both about her amazing career and how she looks after her own mental health.
Informing our consumer-facing work
Remembering that 1 in 4 people are affected by mental health problems is a very important consideration for an organisation like the CMA, which helps people get a fair deal from markets.
Through our consumer vulnerability programme, we have talked to excellent organisations such as Money and Mental Health and the Money Advice Trust on topics such as inclusive design and how trusted intermediaries can use technology, such as Open Banking, to help people keep on top of their finances.
Training our front-line managers
Very early on, we identified that our front-line managers wanted to learn more about mental health issues so that they could feel confident supporting staff members experiencing difficulties.
There's an understandable nervousness about 'making it worse' or 'putting your foot in it'.  To help with this, we have incorporated a module on mental health awareness as part of our management training programme, so that managers feel more comfortable checking in with colleagues about their mental wellbeing alongside the normal work updates.
Building design
By a fortunate coincidence, our work on mental health awareness coincided with our London office moving to Canary Wharf and our decision to further expand outside of London.
The conversations that we held about the development and design of the Cabot (our new London office) were informed and enriched by a greater appreciation of the need for a diverse range of working environments, including both areas in which people can focus and concentrate in silence and more sociable spaces where our staff can connect with colleagues working elsewhere in the building.
We are working to develop similarly healthy working environments in our offices in Edinburgh, Cardiff and Belfast too.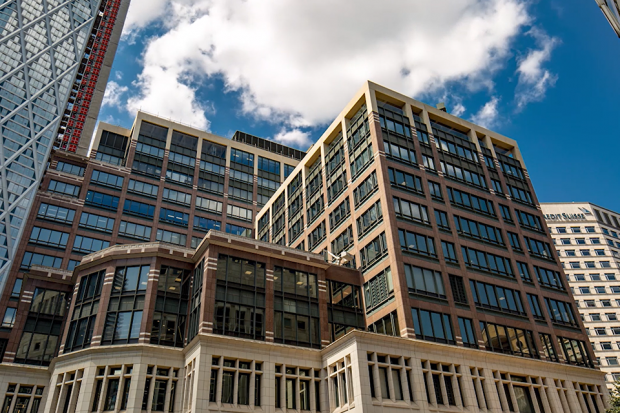 Talking to the Board
 Our focus on mental health, as well as our many excellent diversity initiatives, started organically, driven by the passion of colleagues to make the CMA a great place to work.
To ensure that our commitment is robust and enduring, we have engaged with our Board who have supported our work and approved important decisions, such publishing as our mental health at work plan.
Last year, one of our non-executive directors, Amelia Fletcher, took on a role overseeing the range of Wellbeing, Inclusion, Diversity and Equality activities at the CMA, recognising the connections between the work we are doing in each of these areas.
Most of our time at the CMA is spent exploring ways to make markets work better, analysing the competitive implications of mergers, investigating breaches of consumer and competition law and all the other things that you'd expect from a competition and consumer agency. However, I'm proud that we have been able to find a bit of time to talk about mental health, both today and all year round.
Adam