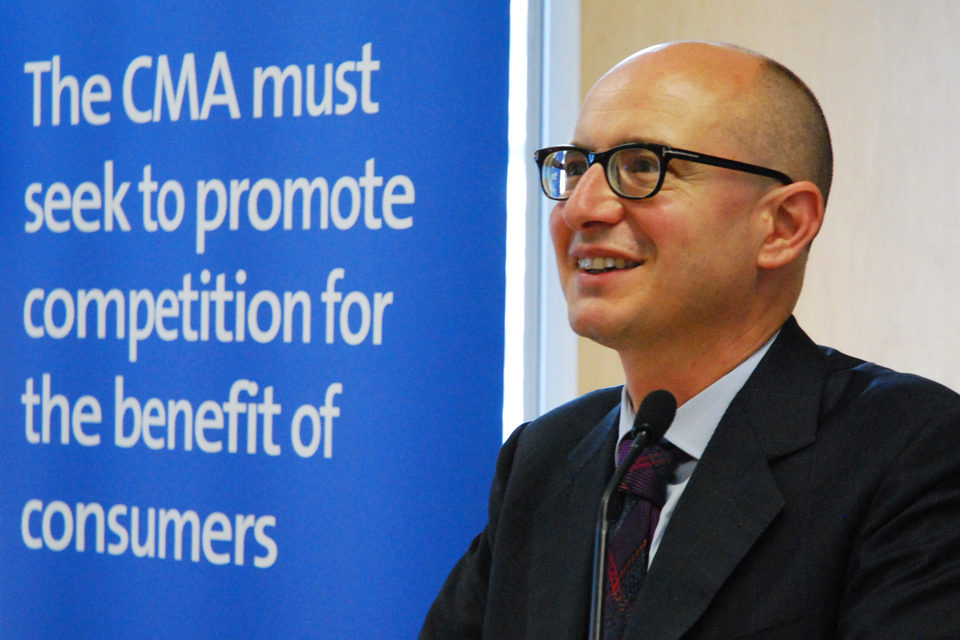 Things have continued apace since the last bulletin in early December, and that is reflected in the annual report that we published today. It sets out the wide-ranging work we have conducted over the past 12 months in what I hope is an easily digestible way, but below I have picked out some of the more recent highlights. 
Tackling issues that matter
in
everyday life
In April, we blocked the merger between Sainsbury's and Asda, due to concerns that it would lead to an increase in prices and a reduction in quality of service, as well as leading to motorists paying more at many Sainsbury's and Asda petrol stations. Given the significance of this merger to many people for their weekly shopping, as well as for shareholders and the City, there has been a great deal of debate about the decision. Ultimately, though, there was no departure from our standard framework and we viewed this through the same lens as we do every merger that comes to us: will customers lose out? Based on detailed evidence and analysis, we thought it likely they would.
Meanwhile we published a progress report on the action we and others have taken following the loyalty penalty super complaint. Two CMA enforcement cases are underway, and important updates are due from Ofcom and the FCA in the five areas Citizens Advice highlighted to us as of particular concern. We expect the regulators to take firm action where problems are found. We also set out a framework for businesses that sets out the difference between healthy competition and unacceptable practices. 
We are also moving forward with legal proceedings for contempt of court against viagogo following our concerns it failed to comply fully with a court order. This follows several warnings that it had not done enough to overhaul how information was presented on its website to comply with a court order previously secured against it.  
In another sector relevant to all our lives, the CMA has provisionally found that four Berkshire estate agents broke competition law by taking part in a price-fixing cartel where members set minimum levels of commission fees for the sale of residential properties. This builds on previous cartel cases in the estate agency sector in other parts of the country. 
We have also been working to ensure people's livelihoods, savings and pensions are safeguarded over the long term through reforms to ensure auditors' work is carried out to a consistently high standard. Our recent package of reform proposals  included the operational split of audit operations from the potential influence of the same company's consultancy business, implementing mandatory joint audits to weaken the dominance of the Big Four and the introduction of statutory regulatory powers to increase the accountability of a company's audit committee.  
P
rotecting vulnerable consumers
In March, we launched an in-depth market investigation into funerals. This followed our initial market study highlighting issues that have led to above inflation price rises for over a decade for both funeral director and crematoria services.  
We are pursuing court proceedings against Care UK to obtain a refund for 1,600 care home residents who had been charged compulsory upfront 'administration' fees that we consider unfair and contrary to consumer protection law, and which resulted in some residents being charged as much as £3,000. This is one of a range of follow up actions resulting from our care homes market study in 2017.  
We have devoted considerable resources in recent years to investigations into alleged anti-competitive practices by pharmaceutical companies. This work continues with our provisional findings that the sole supplier of lifesaving hydrocortisone tablets to the NHS had entered into an anti-competitive agreement to prevent the entry of another company into the market. And we also issued a provisional finding that four pharmaceutical firms agreed not to compete for the supply of prescription-only anti-nausea tablets to the NHS. This work is complex and ongoing. 
Promoting better outcomes for consumers online
This month we launched our digital markets strategy, which sets out our aim to protect consumers whilst fostering innovation in the rapidly developing digital economy. As part of this we launched a market study into online platforms that are funded by digital advertising which will examine sources of market power, the way personal data is collected and whether competition in digital advertising is producing good outcomes for consumers. If the CMA finds evidence of problems, it could make detailed recommendations to government that build on the proposals from the Furman Report published by the Chancellor earlier this year. 
I spoke about effective merger control in digital markets at an OECD/G7 conference last month. As the Furman report says and as reflected in an external research report we commissioned, there are some questions to ask about mergers in this area, with only a handful of investigations into the roughly 400 acquisitions involving the 'GAFAM' quintet – Google, Apple, Facebook, Amazon and Microsoft – over the past 10 years, and not a single one blocked. Our current view is that the existing UK merger review framework is largely fit for purpose but we need to continue to adapt our analysis to the new circumstances and to what we have learnt from experience.  
Evidence of our evolving approach to digital mergers includes our investigation into Paypal's takeover of Swedish mobile payments company iZettle. After a thorough investigation, which considered in detail how competition between the merging businesses would have been likely to develop in future, we cleared the merger. Meanwhile the concerns we raised about risks to competition in the Experian and Clearscore merger and the TopCashback and Quidco merger were followed by both mergers being abandoned. Together with the merger between electron microscope firms Thermo Fisher and Gatan, there were three abandonments in cases subject to an in-depth investigation, following the CMA raising concerns and prior to the formal conclusion of its work, within the last four months.   
Making full use of our powers and reforming the competition regime
In February, our Chairman, Lord Tyrie, wrote to Secretary of State Greg Clark outlining proposals for reform to the competition and consumer regime to allow us to respond to the twin challenges of growth in the digital economy and the decline in trust in the value of competitive markets. A recent speech by Michael Grenfell, our Executive Director of Enforcement, reinforced how these reforms will improve enforcement action, making the CMA stronger, swifter, more effective and fairer in tackling, and deterring, illegal anti-competitive practices. The speech also discussed our continuing preparations for Brexit. 
But ahead of any reforms, we are focussed on using our existing toolkit to maximum effect. Where appropriate, leveraging individual responsibility through director disqualifications is an important way of ensuring businesses comply with competition law. We secured the disqualification of three former directors of office fit-out firms, following our finding in April that six office fit-out companies had broken competition law. 
We have also updated our guidance relating to initial enforcement orders (IEO) for merging parties, to reflect our firmer approach to enforcing them. These orders are used to prevent companies from integrating to the extent that it prevents us from unpicking the merger if we think it might damage competition. This year, we have issued close to £750,000 in penalties for breaching such orders.  
The period ahead will bring many challenges for the UK, its consumers and the economy, and the CMA is determined to play its role in meeting them. Not least of these is Brexit, for which we continue to prepare, including for the possibility of a no deal exit in October. From 12 August, we will be doing so from our new London headquarters at: 
The Cabot
25 Cabot Square
London
E14 4QZ
All our other details remain the same, including our growing offices in Edinburgh, Belfast and Cardiff, and you can continue to follow us on Twitter, Facebook and LinkedIn.