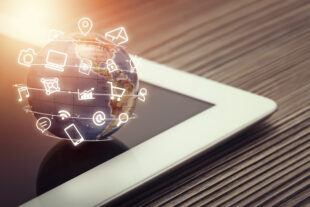 We've joined forces with our international consumer protection counterparts to identify terms and conditions (T&Cs) in the digital economy that may be harming customers - which in today's digital age equates to many millions of people across the globe.  Following a review of the digital marketplace, we're now urging online businesses to check their terms and conditions to make sure they are fair.
So how did we delve into the vast, fast-paced world of digital commerce?
Alongside the Norwegian Consumer Authority, we led a working group of the International Consumer Protection Enforcement Network (ICPEN).  ICPEN brings together over sixty consumer authorities from across the world to identify common issues causing problems for customers and, where possible, to find common solutions.
What we looked at
The working group coordinated a review by ICPEN members of T&Cs in a number of sectors including online dating, educational, and video streaming services, app stores and the internet of things such as smart fridges.
We examined:
whether terms were easy to find and easy to read
terms governing consumer rights to cancel or terminate contracts
businesses' rights to change contracts
customer privacy rights
What we found
In a nutshell, the working group found room for improvement.  Terms could be made more transparent and provide customers with a better deal on cancelling long-term or rolling contracts, changes to contracts mid-term, and privacy rights.
ICPEN has published an open letter to digital firms, advising them to review their terms and conditions and related marketing practices, to help ensure they are treating customers fairly and complying with relevant consumer law.
What this means for UK businesses
We fully support and endorse ICPEN's letter and urge UK online businesses to take it seriously.  As part of the CMA's contribution to the review, we looked at online dating sites, and have already written to major businesses in that sector.
To help businesses get to grips with the UK law around fairness in consumer contracts, we've produced a series of at-a-glance guides.  These guides provide a simplified overview of the law and complement more detailed guidance on unfair terms that we produced in 2015.
If you are a business in doubt about whether a term is fair or not, we always recommend that you seek independent legal advice.
Fair contract terms benefit everyone - businesses and customers alike.  For businesses, fair terms can enhance your reputation and save you time and money by helping to avoid disputes.
Ultimately, businesses can only rely on terms that are fair - unfair terms can't be enforced.
T&Cs in the digital economy remain a priority for the CMA and many other ICPEN members. We will continue to work together for the benefit of customers worldwide.