This week, we're celebrating Mental Health Awareness week at the CMA and this year's theme is all about connecting with nature.
Did you know that small contacts with nature can reduce feelings of social isolation? Research shows that connecting with nature can also be effective in protecting our mental health.
That's why we are running a few internal events to raise awareness of nature and how it can help us to look after our own and each other's wellbeing.
I've shared some of our ideas of what you can do this week below.
'Awe' walk or ride
So, what is an awe walk you might ask? It's a walk where you focus on the beauty of nature surrounding you, without any distractions. I like to leave my headphones and phone at home so I can really immerse myself in nature.
Research on 'awe walks' shows that adults that took weekly, brief awe walks for 8 weeks reported improvements in positive emotions and a decrease in daily life stress.
Setting aside just an hour or so this week is a great way to discover a nature walk near where you live.
During my lockdown cycle rides last year, I stumbled on this triangle of dense and stunning woodland between my house and our offices.
When I'm riding through here, I stop thinking about what the day is going to hold and tune into the sound of birds.
Why not give it a go and find a park near you?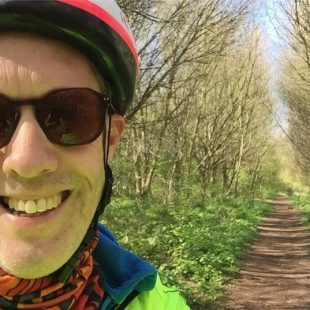 Outside Yoga
Exercise is a great way to improve your physical and mental health, but we saw many people find it challenging to do it with gym and health clubs closed throughout the pandemic.
Some of us may have had it hard with working out at home, often with not enough space to do the exercise we love.
The benefits of both Yoga and being outside are well-documented. So, this Mental Health Awareness Week, we thought why not combine the 2?
We'll be hosting a lunchtime event where our staff can enjoy a YouTube Yoga session outdoors (or indoors if the weather doesn't cooperate).
If you'd like to invite your friends and colleagues to do a Yoga session outdoors together, here are some video tutorials you can follow:
Grow your own herbs and vegetables
If you love gardening, why not start growing your own herbs or vegetables?
Gardening is another way you can help build your self-esteem and reduce stress, all while improving your hand strength and help you eat healthier, according to UNC Health Talk.
Our Sustainability and Environment Network is holding a virtual session to help people start growing their own, while connecting with colleagues and of course with nature.
Perhaps some of your friends and family are determined to grow their own produce, and if they are I encourage you to start growing your own together.
Not sure where to start? The Royal Horticultural Society (RHS) has a beginners tutorial you can follow, make sure you check out Get, Set, Grow.
I hope that some of our events and tips have inspired you to take some time for yourself and connect with nature this week.
Let us know in the comments below, if you'd like to share, your nature experiences! We'd love to hear from you.